Effective PyCharm Course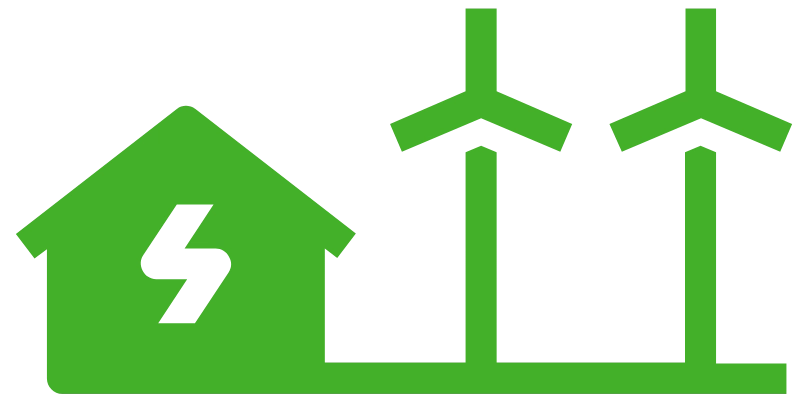 This course is carbon neutral.
Course Summary
PyCharm is the premier Python IDE (integrated development environment). You will be hard pressed to find an editor that gives a more holistic way to build Python applications. While powerful, IDEs can be daunting to learn with all their features. That's why this course shows you how they all work.
What students are saying
I've yet to ever be disappointed with a Talk Python course!
-- Ibrahim G.
What's this course about and how is it different?
This course will teach you to be extremely proficient with PyCharm.
We dive deep into every aspect of the IDE. From project management and using the editor to advanced database management features and the refactoring tools, you will see PyCharm in action and try them out for yourself.
In this course, you will:
Learn to manage Python projects in PyCharm (large and small)
Create web applications (Pyramid, Flask, Django, and more)
Use PyCharm's special data science mode
Refactor your Python code with confidence
Learn about code smells and duplicate code tooling
Access git, github, and use git flow
Use the visual debugger to understand code flow and state
Make your code more reliable with unit testing and pytest
Create new Python packages

And lots more

View the full course outline.
Who is this course for?
For anyone who has never used PyCharm: You will see what a true Python IDE has to offer in a concrete and demo-focused tour de force.
Existing PyCharm users: Your IDE has a wealth of features that you might not even know exist. You will see and explore most of them in this course!
Get the book and course together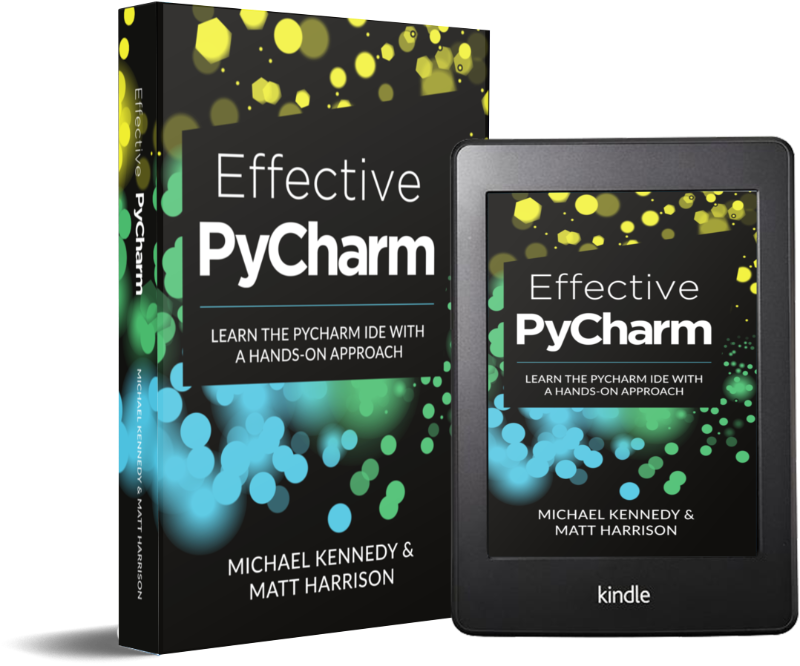 This course has an accompanying book. You can buy the course and the book together and get a discount on both.
Concepts backed by concise visuals
While exploring a topic interactively with demos and live code is very engaging, it can lose the forest for the trees. That's why when we hit a new topic, we stop and discuss it with concise and clear visuals.
Here's an example of concepts reviewing the database tools within PyCharm.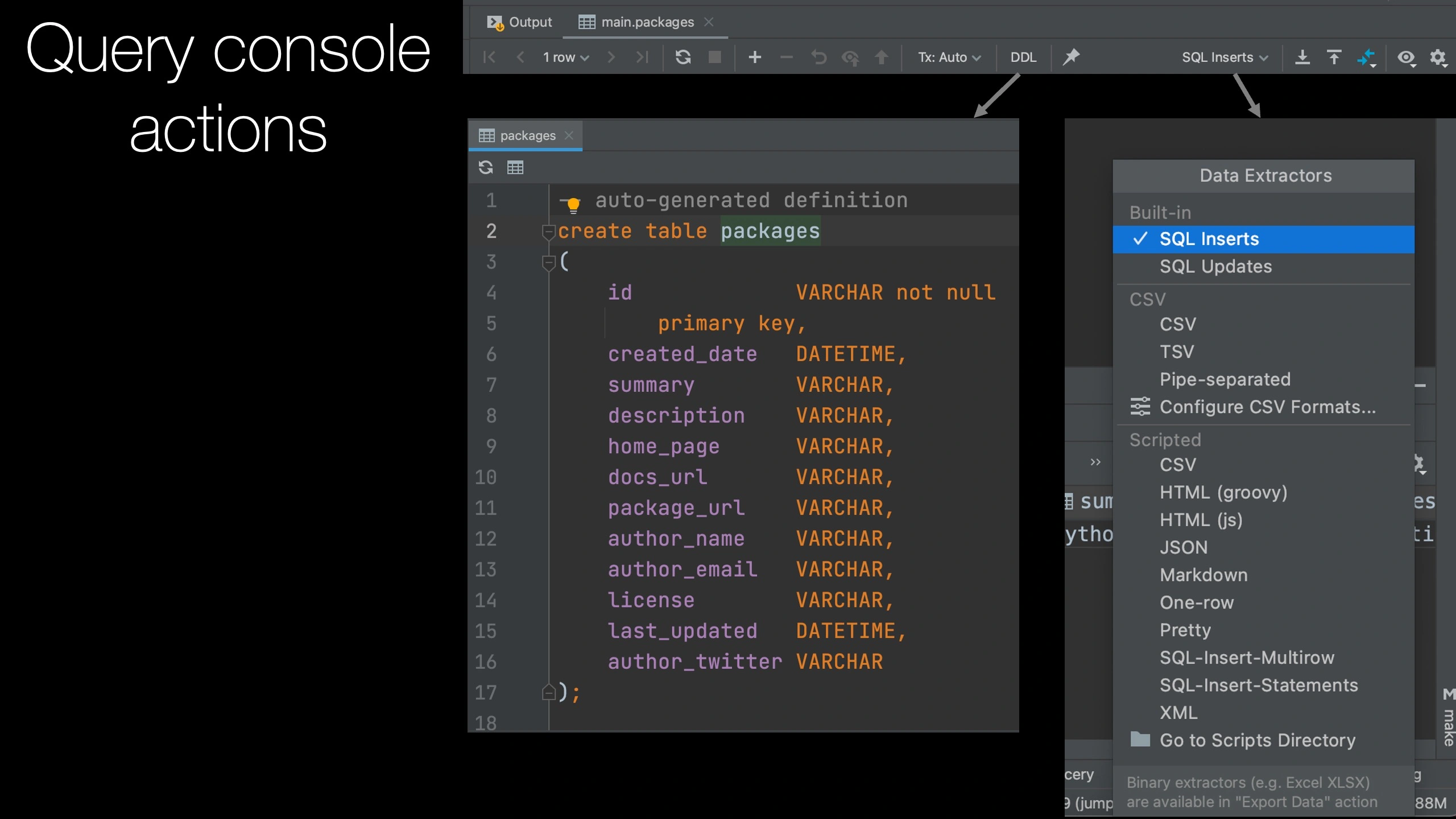 Follow along with subtitles and transcripts
Each course comes with subtitles and full transcripts. The transcripts are available as a separate searchable page for each lecture. They also are available in course-wide search results to help you find just the right lecture.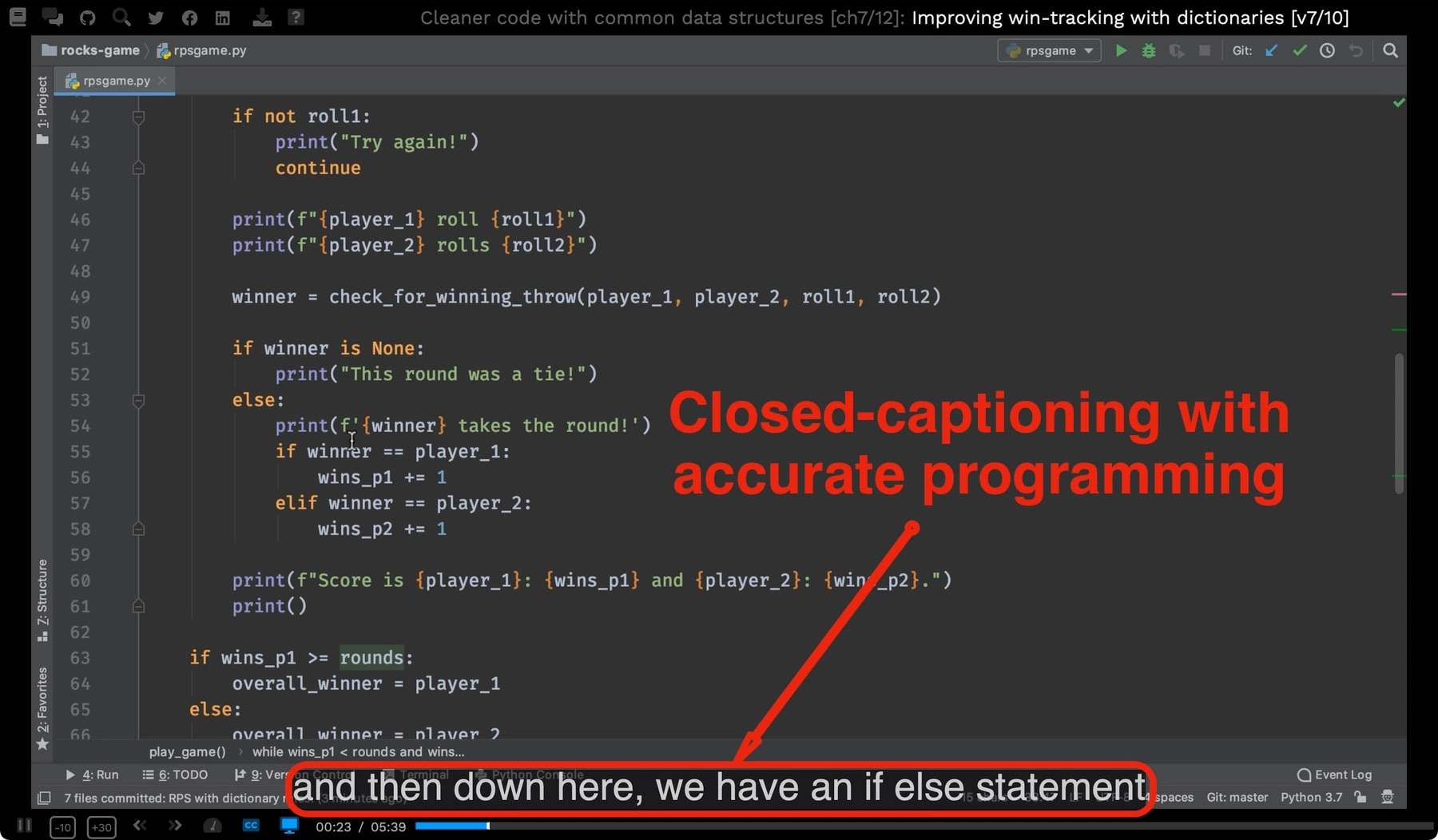 Get hands-on for almost every chapter
Learning IDEs can be hard. There are just so many features. Unless you build that muscle memory with practice, most of them will be forgotten. Effective PyCharm has hands-on exercises for almost every chapter of the course.
These exercises range in length from 10 minutes to about 30 minutes each.
Here is the your turn for the Refactoring chapter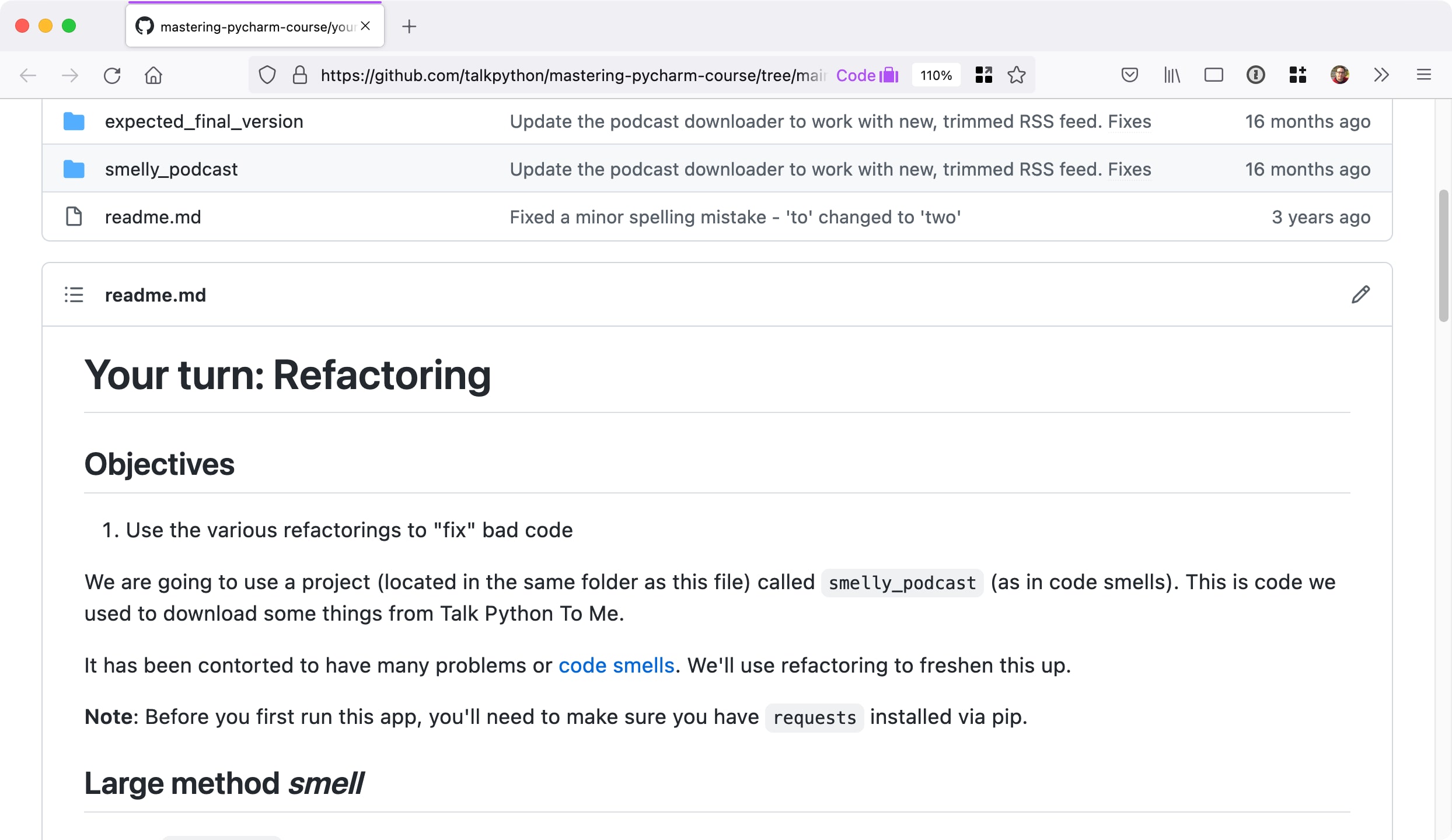 Who am I? Why should you take my course?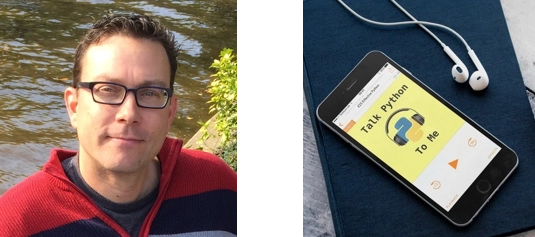 My name is Michael, nice to meet you. ;) There are a couple of reasons I'm especially qualified to teach you Python.
 1. I'm the host of the #1 podcast on Python called Talk Python To Me. Over there, I've interviewed many of the leaders and creators in the Python community. I bring that perspective to all the courses I create.
 2. I've been a professional software trainer for over 10 years. I have taught literally thousands of professional developers in hundreds of courses throughout the world.
 3. Students have loved my courses. Here are just a few quotes from past students of mine.
"Michael is super knowledgeable, loves his craft, and he conveys it all well. I would highly recommend his training class anytime." - Robert F.
"Michael is simply an outstanding instructor." - Kevin R.
"Michael was an encyclopedia for the deep inner workings of Python. Very impressive." - Neal L.
Free office hours keep you from getting stuck
One of the challenges of self-paced online learning is getting stuck. It can be hard to get the help you need to get unstuck.
That's why at Talk Python Training, we offer live, online office hours. You drop in and join a group of fellow students to chat about your course progress and see solutions via screen sharing.
Just visit your account page to see the upcoming office hour schedule.
PyCharm Professional vs. Community Editions
Obviously PyCharm Professional is the most powerful edition of PyCharm. But many people are using the free and open source edition of PyCharm called the Community edition.
A common question is how much of this course covers features exclusive to the paid version of PyCharm. Here's a table that roughly lays that out for you.
| | | |
| --- | --- | --- |
| Chapter | PyCharm Pro | PyCharm Community |
| Why PyCharm and IDEs? | | |
| PyCharm Projects | | |
| The Editor | | |
| Source control | | |
| Refactoring | | |
| Databases | | |
| Server-side Python web apps | | |
| Client-side web apps | | |
| Debugging Python applications | | |
| Packages | | |
| Performance and profiling | | |
| Unit testing | | |
| Data science tools | | |
| Tool windows | | |
| Extending PyCharm with plugins | | |
| Conclusion | | |
See JetBrain's full comparison matrix for more details.
This course is delivered in very high resolution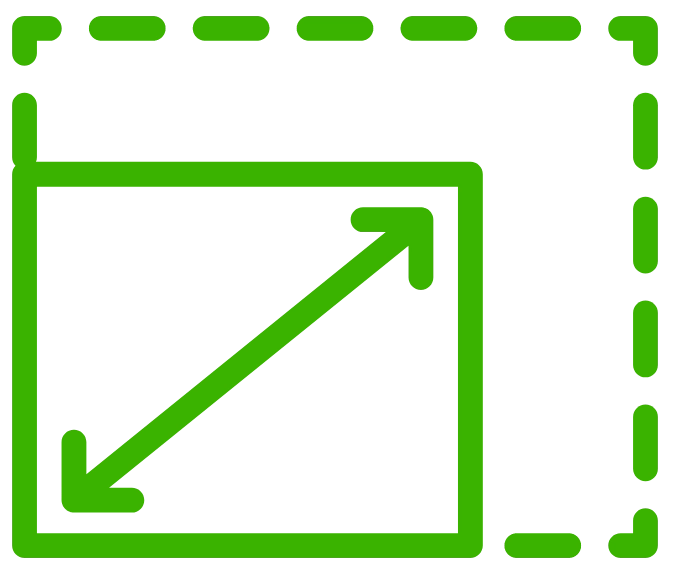 This course is delivered in 1440p (4x the pixels as 720p). When you're watching the videos for this course, it will feel like you're sitting next to the instructor looking at their screen.
Every little detail, menu item, and icon is clear and crisp. Watch the introductory video at the top of this page to see an example.
Is this course based on Python 3 or Python 2?
This course is based upon Python 3. Python 2 is officially unsupported as of January 1st, 2020 and we believe that it would be ill-advised to teach or learn Python 2. This course is, and has always been, built around Python 3.
The time to act is now
Effective PyCharm and gain all its superpowers to build your next Python project.
Course Outline: Chapters and Lectures
| | | |
| --- | --- | --- |
| | | 29:30 |
| | | 0:49 |
| | | 7:49 |
| | | 3:35 |
| | | 3:29 |
| | | 2:20 |
| | | 0:58 |
| | | 2:59 |
| | | 0:45 |
| | | 0:56 |
| | | 3:59 |
| | | 0:37 |
| | | 0:39 |
| | | 0:35 |
| | | 36:12 |
| | | 2:13 |
| | | 0:54 |
| | | 8:08 |
| | | 8:34 |
| | | 1:20 |
| | | 1:47 |
| | | 3:58 |
| | | 4:16 |
| | | 2:20 |
| | | 1:22 |
| | | 1:20 |
| | | 1:01:13 |
| | | 1:28 |
| | | 17:52 |
| | | 4:48 |
| | | 3:34 |
| | | 3:04 |
| | | 2:35 |
| | | 2:34 |
| | | 2:17 |
| | | 2:07 |
| | | 2:04 |
| | | 2:41 |
| | | 1:05 |
| | | 2:47 |
| | | 3:20 |
| | | 0:57 |
| | | 1:44 |
| | | 5:39 |
| | | 0:37 |
| | | 34:35 |
| | | 1:34 |
| | | 5:03 |
| | | 2:59 |
| | | 4:20 |
| | | 3:06 |
| | | 2:37 |
| | | 5:05 |
| | | 2:04 |
| | | 3:42 |
| | | 2:50 |
| | | 1:15 |
| | | 38:47 |
| | | 2:12 |
| | | 4:55 |
| | | 4:44 |
| | | 3:29 |
| | | 4:27 |
| | | 4:22 |
| | | 3:33 |
| | | 4:16 |
| | | 4:41 |
| | | 2:08 |
| | | 26:46 |
| | | 1:21 |
| | | 1:31 |
| | | 3:33 |
| | | 3:55 |
| | | 3:15 |
| | | 6:39 |
| | | 2:31 |
| | | 3:12 |
| | | 0:49 |
| | | 34:32 |
| | | 1:59 |
| | | 1:12 |
| | | 3:03 |
| | | 7:14 |
| | | 6:04 |
| | | 6:28 |
| | | 2:37 |
| | | 5:55 |
| | | 34:00 |
| | | 1:16 |
| | | 4:02 |
| | | 4:42 |
| | | 5:48 |
| | | 7:20 |
| | | 7:38 |
| | | 3:14 |
| | | 25:42 |
| | | 1:19 |
| | | 5:11 |
| | | 8:01 |
| | | 4:43 |
| | | 6:01 |
| | | 0:27 |
| | | 18:42 |
| | | 1:38 |
| | | 6:54 |
| | | 6:24 |
| | | 3:09 |
| | | 0:37 |
| | | 29:45 |
| | | 1:05 |
| | | 1:08 |
| | | 4:03 |
| | | 5:58 |
| | | 7:11 |
| | | 5:26 |
| | | 4:08 |
| | | 0:46 |
| | | 31:51 |
| | | 1:24 |
| | | 1:31 |
| | | 1:34 |
| | | 5:29 |
| | | 1:19 |
| | | 4:52 |
| | | 5:30 |
| | | 3:23 |
| | | 3:52 |
| | | 2:33 |
| | | 0:24 |
| | | 19:49 |
| | | 0:40 |
| | | 4:49 |
| | | 2:22 |
| | | 4:19 |
| | | 1:49 |
| | | 2:13 |
| | | 3:10 |
| | | 0:27 |
| | | 7:47 |
| | | 0:54 |
| | | 2:52 |
| | | 4:01 |
| | | 7:54 |
| | | 4:02 |
| | | 1:47 |
| | | 1:03 |
| | | 0:35 |
| | | 0:27 |