Python for the .NET Developer Course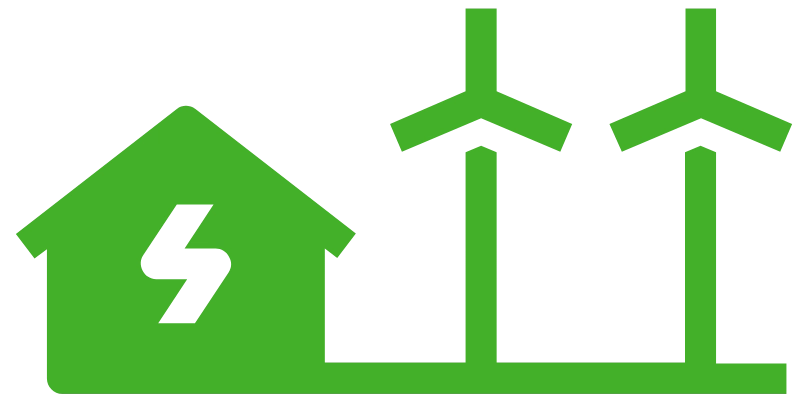 This course is carbon neutral.
Course Summary
Are you a .NET developer who is interested in learning Python? This is the course for you. While there are many getting started courses for Python, this course is specifically geared towards helping C# and .NET developers quickly get up to speed with Python. It covers a wide spectrum of the developer landscape from the language, databases and ORMs, web frameworks, data science and computational notebooks, and much much more.
What's this course about and how is it different?
This is the definitive course to learn the entire Python ecosystem for .NET developers. We spend over 9 hours comparing Python and C#, the Python runtime and the .NET CLR, NuGet to PyPI, and much more. You will see working C# examples _first_. Then we will build the Python equivalent of that application live, together, during the course.
In this course, you will:
See how Python and .NET are similar and how they are different
Get setup and ready to write and run Python 3 on your computer
Dive deep into the Python language while comparing each element to it's C# equivalent
Work with classes, inheritance, method overriding and more in Python
Leverage the over 200,000 public packages (libraries) using pip and related tooling
Explore Python's two memory management models and how they differ from .NET's GC
Choose a Python web framework comparable to ASP.NET MVC
Build data driven web applications using Flask and the ORM SQLAlchemy
Test your Python libraries and application with pytest
Mock out your dependencies for true unit testing with pytest_mock
Leverage async and await (in Python!) for massively parallel processing
Explore and visualize data with computational notebooks using JupyterLab
Deploy a Flask (Python) web app on a Linux cloud VM using nginx and uWSGI
Secure your web app on Linux with Let's Encrypt to add free SSL support

And lots more

View the full course outline.
Who is this course for?
With this course, the name really does say it all. If you know C# and .NET and would like to leverage that expertise in the Python space, this course is for you.
The course does not assume Python knowledge. But it does assume you know basic C# code and that you wish the leverage that knowledge to learn Python faster and deeper.
Concepts backed by concise visuals
While exploring a topic interactively with demos and live code is very engaging, it can mean losing the forest for the trees. That's why when we hit a new topic, we stop and discuss it with concise and clear visuals.
Here's an example of introducing the overall architecture of how we will deploy our Flask web application on Ubuntu Linux using nginx and uWSGI with worker processes executing our Python app in parallel.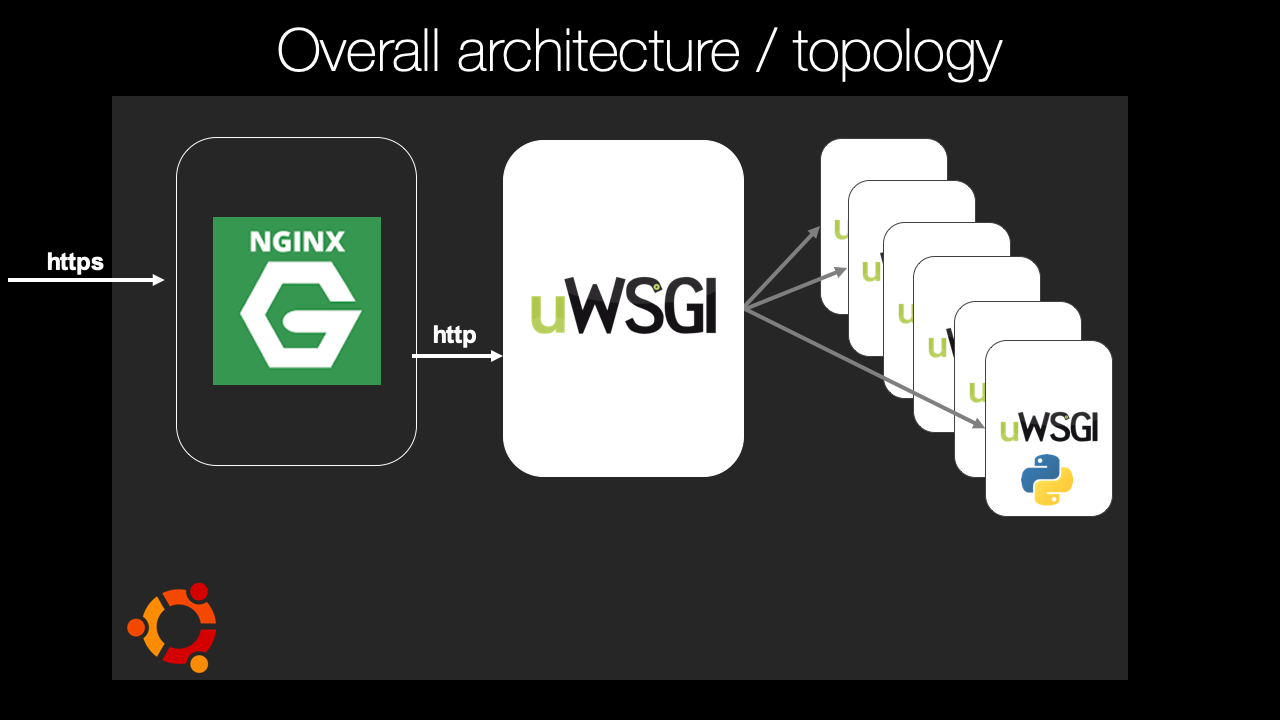 Get hands-on for almost every chapter
Learning to code is an interactive experience. That's why it's important to write code and explore the apps we building during this course.
While not required, students will gain much deeper fluency in Python by building the Python applications and code sames themselves. The follow-along plan for this course is to watch the lectures for a given demo first. Then, using the existing C# code provided in the GitHub repository, rebuild the Python equivalent seen during that chapter.
Of course, if you get stuck, the Python code is also available, but using the C# to guide your development and practice will strengthen your Python knowledge.
This course is delivered in very high resolution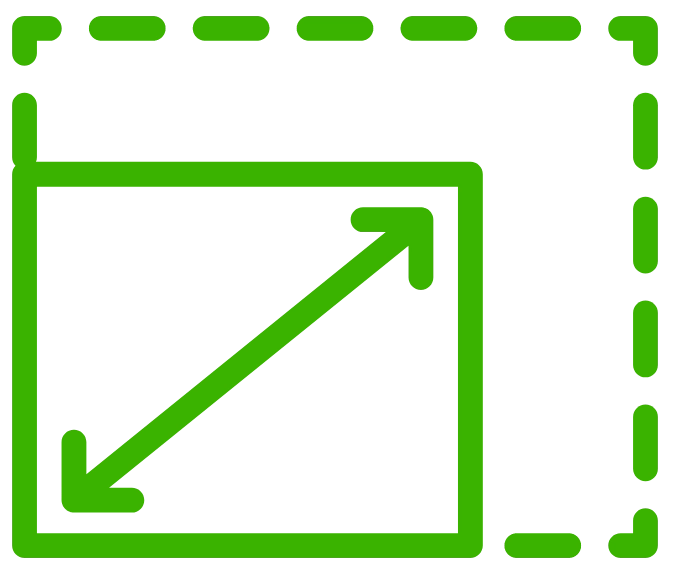 This course is delivered in 1440p (4x the pixels as 720p). When you're watching the videos for this course, it will feel like you're sitting next to the instructor looking at their screen.
Every little detail, menu item, and icon is clear and crisp. Watch the introductory video at the top of this page to see an example.
Follow along with subtitles and transcripts
Each course comes with subtitles and full transcripts. The transcripts are available as a separate searchable page for each lecture. They also are available in course-wide search results to help you find just the right lecture.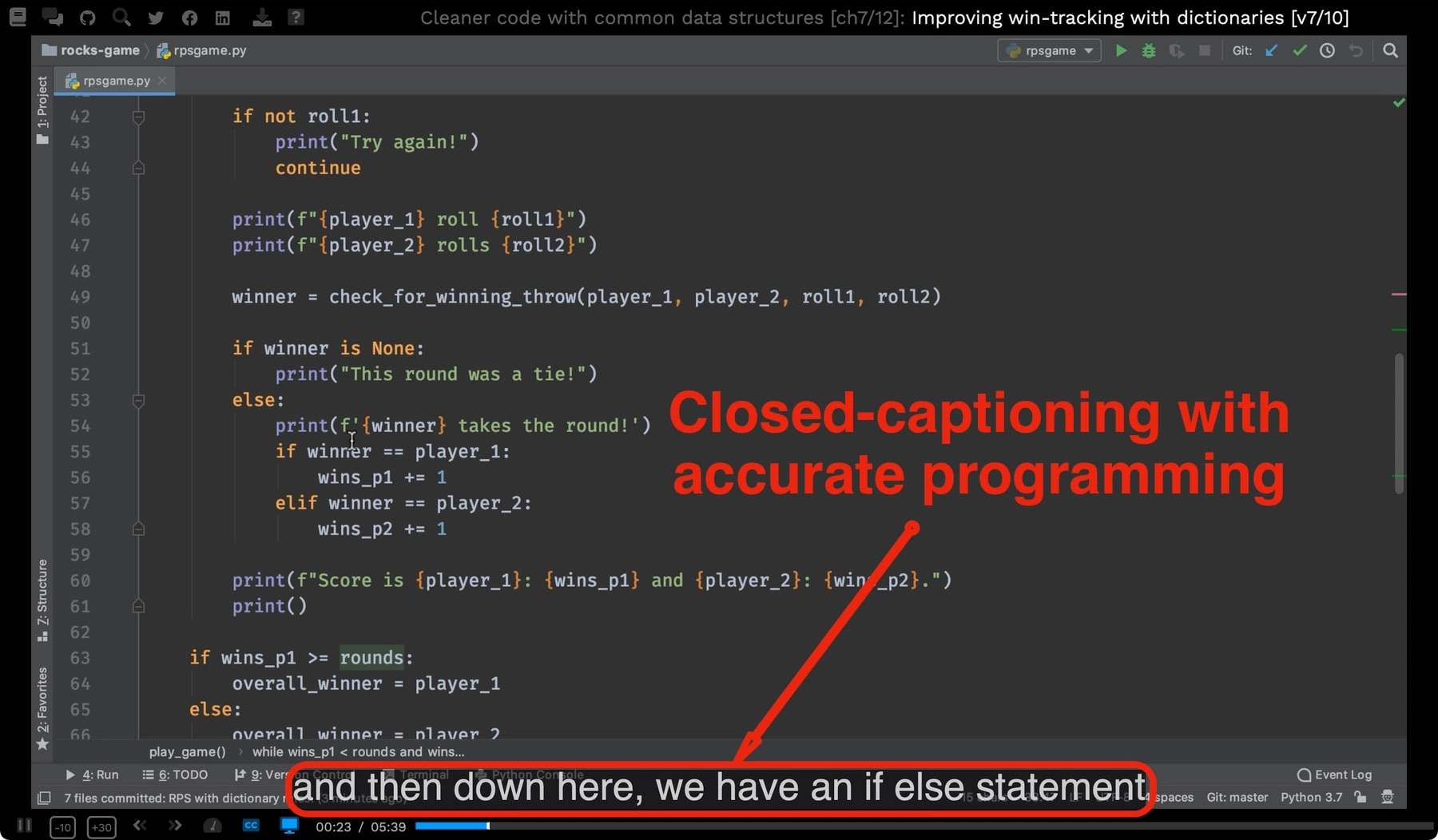 Who am I? Why should you take my course?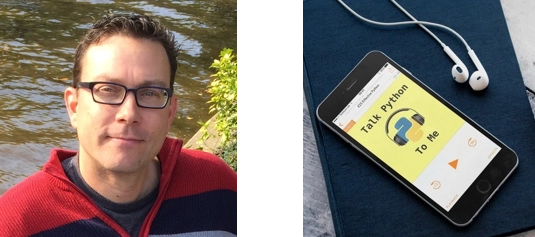 My name is Michael, nice to meet you. ;) There are a couple of reasons I'm especially qualified to teach you Python.
 1. I'm the host of the #1 podcast on Python called Talk Python To Me. Over there, I've interviewed many of the leaders and creators in the Python community. I bring that perspective to all the courses I create.
 2. I've been a professional software trainer for over 10 years. I have taught literally thousands of professional developers in hundreds of courses throughout the world.
 3. Students have loved my courses. Here are just a few quotes from past students of mine.
"Michael is super knowledgeable, loves his craft, and he conveys it all well. I would highly recommend his training class anytime." - Robert F.
"Michael is simply an outstanding instructor." - Kevin R.
"Michael was an encyclopedia for the deep inner workings of Python. Very impressive." - Neal L.
Free office hours keep you from getting stuck
One of the challenges of self-paced online learning is getting stuck. It can be hard to get the help you need to get unstuck.
That's why at Talk Python Training, we offer live, online office hours. You drop in and join a group of fellow students to chat about your course progress and see solutions via screen sharing.
Just visit your account page to see the upcoming office hour schedule.
The time to act is now
Python is quickly becoming the go-to language for many purposes. Whether you want to move deeper into open source, jump into data science, build a Python-based web app, or just learn another language and skill to complement your C# work, this course will get you there better than any other on the market.
Course Outline: Chapters and Lectures
| | | |
| --- | --- | --- |
| | | 17:20 |
| | | 2:33 |
| | | 3:04 |
| | | 0:36 |
| | | 3:37 |
| | | 4:08 |
| | | 0:28 |
| | | 2:54 |
| | | 7:53 |
| | | 2:45 |
| | | 0:37 |
| | | 2:09 |
| | | 0:42 |
| | | 1:40 |
| | | 2:05:42 |
| | | 1:56 |
| | | 3:20 |
| | | 3:53 |
| | | 3:01 |
| | | 11:57 |
| | | 2:34 |
| | | 2:04 |
| | | 7:30 |
| | | 1:31 |
| | | 2:22 |
| | | 10:09 |
| | | 0:56 |
| | | 2:46 |
| | | 6:08 |
| | | 3:20 |
| | | 3:46 |
| | | 4:09 |
| | | 1:01 |
| | | 1:36 |
| | | 2:13 |
| | | 0:39 |
| | | 2:35 |
| | | 4:59 |
| | | 0:52 |
| | | 3:21 |
| | | 3:24 |
| | | 0:56 |
| | | 2:06 |
| | | 7:37 |
| | | 1:19 |
| | | 2:31 |
| | | 6:08 |
| | | 0:43 |
| | | 0:54 |
| | | 2:55 |
| | | 1:24 |
| | | 0:56 |
| | | 6:11 |
| | | 47:34 |
| | | 3:06 |
| | | 3:46 |
| | | 6:16 |
| | | 2:23 |
| | | 2:01 |
| | | 4:31 |
| | | 2:22 |
| | | 2:23 |
| | | 3:14 |
| | | 3:53 |
| | | 4:59 |
| | | 2:47 |
| | | 4:25 |
| | | 1:28 |
| | | 25:26 |
| | | 1:26 |
| | | 3:03 |
| | | 2:25 |
| | | 2:54 |
| | | 7:58 |
| | | 2:49 |
| | | 3:35 |
| | | 1:16 |
| | | 23:12 |
| | | 1:13 |
| | | 4:17 |
| | | 4:38 |
| | | 8:07 |
| | | 4:57 |
| | | 54:37 |
| | | 2:16 |
| | | 3:55 |
| | | 2:04 |
| | | 2:57 |
| | | 1:27 |
| | | 3:55 |
| | | 6:05 |
| | | 3:51 |
| | | 2:20 |
| | | 2:35 |
| | | 5:08 |
| | | 2:12 |
| | | 2:56 |
| | | 2:40 |
| | | 1:01 |
| | | 1:12 |
| | | 6:12 |
| | | 1:04 |
| | | 0:47 |
| | | 50:45 |
| | | 2:24 |
| | | 3:45 |
| | | 4:22 |
| | | 5:41 |
| | | 4:40 |
| | | 3:56 |
| | | 3:30 |
| | | 1:42 |
| | | 1:54 |
| | | 5:35 |
| | | 3:39 |
| | | 2:38 |
| | | 2:14 |
| | | 0:56 |
| | | 1:42 |
| | | 2:07 |
| | | 35:20 |
| | | 1:31 |
| | | 1:02 |
| | | 3:09 |
| | | 4:53 |
| | | 1:48 |
| | | 3:02 |
| | | 3:03 |
| | | 2:33 |
| | | 6:05 |
| | | 0:53 |
| | | 2:16 |
| | | 4:39 |
| | | 0:26 |
| | | 37:43 |
| | | 1:49 |
| | | 2:06 |
| | | 3:53 |
| | | 2:21 |
| | | 0:34 |
| | | 3:27 |
| | | 3:11 |
| | | 7:39 |
| | | 1:26 |
| | | 1:49 |
| | | 2:29 |
| | | 6:25 |
| | | 0:34 |
| | | 43:40 |
| | | 2:16 |
| | | 3:56 |
| | | 3:11 |
| | | 5:15 |
| | | 7:40 |
| | | 2:56 |
| | | 3:10 |
| | | 5:21 |
| | | 3:10 |
| | | 4:13 |
| | | 2:32 |
| | | 57:48 |
| | | 1:19 |
| | | 1:49 |
| | | 7:11 |
| | | 4:33 |
| | | 3:29 |
| | | 6:48 |
| | | 7:27 |
| | | 7:29 |
| | | 3:25 |
| | | 7:56 |
| | | 2:57 |
| | | 3:25 |
| | | 17:22 |
| | | 0:29 |
| | | 4:01 |
| | | 1:37 |
| | | 1:09 |
| | | 1:23 |
| | | 1:21 |
| | | 1:19 |
| | | 1:24 |
| | | 1:26 |
| | | 1:14 |
| | | 1:01 |
| | | 0:23 |
| | | 0:35 |